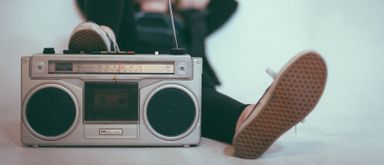 Delivery Community's Quarterly Playlist
In Zoopla we use Quarterly Planning as a way for teams to have short term goals about the desired impact of their work. Planning on a quarterly basis means our teams have a regular, conscious point to reflect on:
if they are making the delivery progress that they expected
if their work is having the desired impact
if there is something more important for them to focus on
Whilst we recognise that not all work fits neatly within a quarter, identifying goals on a quarterly basis encourages teams to think about the slices of value and impact that they can achieve, sometimes as proof points to a larger goal. Teams don't have to stick to a quarterly timescale if they genuinely discover something that tells them they should change focus earlier. However, the quarterly planning timeline is a good mechanism to ensure our teams are thinking about our key enablers for agile delivery at a strategic level as well as day-to-day.
Role of the delivery function in quarterly planning
The delivery function in Zoopla have an integral role in ensuring quarterly planning is successful, through:
tracking the balance of work within their teams and whether that allows enough capacity to achieve the goals
mapping the logistics of delivering the work so that their teams can work at pace without external factors slowing them down
facilitating their teams through quarterly planning activities so they have the strongest start to each quarter
Overview of a 'typical' quarter
One of the biggest challenges we find in quarterly planning is how quickly the quarter passes and how difficult it is to track the time so that the team gets the right support at the right time. To help us overcome that challenge, we decided to map out a 'typical' quarter that articulates the types of things delivery managers should be thinking about at various points.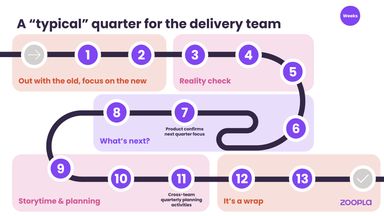 When using a framework like this we stress that taking a pragmatic approach is key. We recognise that in reality no quarter is 'typical' due to holidays and other environmental factors. However, this gives us a good template to work from and then adjust for each quarter based on context.
It's also unlikely that a quarter will run exactly to time. But it helps us map the impact - for example, we know if we haven't had a steer from product on the focus for next quarter by around week 7, it means that the team will have less time to plan.
Finally, we don't want an overview like this to reduce our agility and ability to respond to change. If a team discovers new information that should change what their next most important focus is after week 7, then they respond to that. However, we have found that communicating a decision making point has been helpful for encouraging internal stakeholders to come forward with requests in a timely way.
Creating our playlist
To help us make sure teams are supported in the right way, we then worked through each week with the questions or activities delivery managers should be thinking about. To further help us track the quarter we gave each week a song that fits with the theme and have created a quarterly playlist for us to work through.
Week
Song
Activities
Week 1
Everything is Awesome - Tegan And Sara
1. Tidy up boards/tools
2. Update everything for new goals
3. Roles & responsibility/ team charter refresh
4. Pre-mortem
5. Backlog creation & refinement
Week 2
Eye of the Tiger - Survivor
1. Review the backlog/in-progress so the most important work is getting done 2. Refine the quarter's work with the team
Week 3
No Surprises - Radiohead
1. Review the delivery plan - does the team goal still look feasible
2. Team confidence check
Week 4
Don't You (Forget About Me) - Simple Minds
1. Review team balancing strategic and operational work
Week 5
Ice, Ice Baby
("Stop. Collaborate & Listen") - Vanilla Ice
1. Agile principle retrospectives
2. Mid/end of year feedback and discussions
Week 6
Livin' On A Prayer
("Whoa...! we're halfway there!") - Bon Jovi
1. Review the delivery plan - does the team goal still look feasible
2. Revisit dependencies
3. Reflect with the team on everything they've achieved - and what's still to come
4. Reprioritise and replan with product manager if needed
Week 7
Thank U, Next - Ariana Grande
1. Align with team leads on focus for the next quarter - what needs to happen now so the work can start in 6 weeks?
Week 8
Come Together - The Beatles
1. Review the quarter ahead - are there activities that will reduce team capacity? (holidays, team changes etc)
2. Does the team have the right skills to achieve its focus next quarter?
3. What work or capacity might be needed from other teams?
Week 9
Don't Stop Believing - Journey
1. Review the delivery plan - does the team goal still look feasible
2. Agree next quarter's draft objective with product manager
3. Team Confidence Check
Week 10
Love Story - Taylor Swift
1. Run quarterly planning activities with the team to socialise the team goals and breakdown the work needed
2. Confirm objective and key results with the team
Week 11
Complicated - Avril Lavigne
1. Workshop to identify:
a) Products/systems involved
b) Risks
c) Mitigation plan (within team and with other teams)
2. Does the team have the right skills to achieve its focus next quarter?
3. Is anything needed from other teams?
Week 12
Final Countdown - Europe
1. Make sure work is wrapping up
2. Create the delivery plan for the next quarter, including:
a) work to achieve the OKRs
b) dependency risk mitigation (for your team and other teams)
c) capacity planning
d) operational work
Week 13
End of the Road - Boyz II Men
1. Quarterly timeline retro with the team to review successes and reflect on learnings
2. Retro with stakeholders to review successes and reflect on learnings
3. Finalise delivery plan for the next quarter - including slack for the unplanned
4. Backlog creation & refinement
Once again, this isn't a rigid framework but a reminder of where we are in the quarter and the things we should be considering to set teams up for success. Delivery managers always apply the context of the teams that they support to the tools that they use. For example, if a team had a later start to the quarter, then the delivery manager will condense the playlist. As a delivery community, we're going to turn the weekly questions and activities into a toolkit to share approaches and formats between the delivery community.
We're already talking about iterating our playlist to substitute different tracks over time or maybe creating different versions to suit the different music tastes in the team (show tunes or Britpop). If you have any song requests or additions that you'd include in a quarterly playlist then we'd like to hear them.